Well, not literally, but I think words is a form of an attack method. But what was his reason for deleting the picture? What did the fans say in the comment section?  All I can say here is that this just segway into a deeper topic. 
Guys, you know that I know all things B.A.P, right? So, this is somewhat old news to me (2-3 day old news), but some may not know what's going on and I'm here to explain the issue. So, Bang has an instagram account (@realb2ng. Sorry cannot link you because it's for smartphones.) and he likes to post artwork and rarely post selcas. This time he decided to post a picture of Jieun and titling it "Blacknight." Here's the picture if you haven't seen it.
Sorry, that it's small, but the fact that he deleted it I say it's a pretty good size. Yes, Bang deleted the picture and why? Let me tell you, it's because of the immature fans he has. Fans commented on the picture saying things like, "Date me, not her" and "Why, oppa." Just a whole lot of B.S and they also told him to take down the picture and everything. Um, last time I checked it HIS freaking Instagram account and he can post WHATEVER he wants. Now, this isn't the first time fans are being rude in the comments section. Whenever he post artwork fans are commenting, "Post a selca already" or "This is disturbing." Just being rude, but this time he wasn't having it. The first time since the creation of Bang's Instagram he replied back. (Second to last comment.)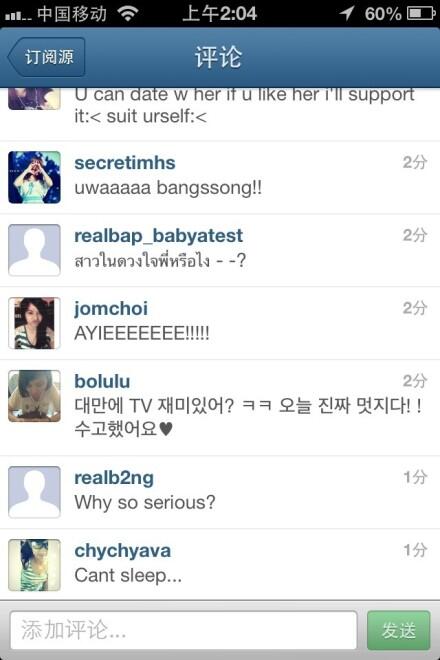 Well, he kind of didn't fire back, but it's something. I mean not on the level of Jaejoong and HongKi, but Bang is apart of a rookie group so what do you expect. Though, him commenting on the photo didn't do him any justice. If you comment good things and don't get a response back from Bang, what comments do you think fans made? Correct bad ones, though there were some that was trying to control the situation, but Bang ended up deleting the photo anyway.
My Opinion
Bang can post whatever picture he likes. If it's a picture of Jieun then so be it. I think this is a lot of controversy because a lot of fans paired them up together and posting that picture fans think there's something up between the two. Okay, I understand that, but to act ignorant in the comments to the point where he has to delete it is unacceptable. If he goes out with her then he goes out with her. There's nothing we can do about it.
Now, I have a solution to reduce the amount of immature fans and that's for idols to be truthful. If you are not going to date a fan then don't give them false hope. I understand that's to increase your fanbase and bring in profit, but that also increase immature (heck even sasaeng) fans. For example, when a MC from a show ask, "What's your ideal type?" that's giving FALSE hope to girls. I think that question is the main one that gives false hope to fans. But I'm not ENTIRELY blaming the idols and MCs because we (fans) have to distinguish the fact that none of us is going to date them. PERIOD.  I'm not saying that it's impossible because it is possible for a fan to date an idol, but that mean that God must wanted you to date him. Seriously, the big man upstairs thinks that you would be the perfect match for that man.
Let me stop this topic is a post entirely different. Matter of fact I've written about the matter, so I'm done. Until next time.